Getting Started (Dec 17)
by Derek Robertson
New to the aeromodelling hobby? Presumably you're interested in flying gliders or electric aircraft or you wouldn't be on the ADS site in the first place? So, here's a brief guide that you may find helpful ...... nothing too technical, I hasten to add!
The good news is that this a great time to get started as there is now a huge range of ARTF and RTF model aircraft (almost ready to fly & ready to fly) available at affordable prices and super reliable modern radio equipment which seems to get cheaper as time goes on. That said, don't go out and buy that Spitfire or Mustang just yet though!
The Models
Learning to fly a model competently takes time, patience and a little guidance, something that ADS can help with. The initial choice of aircraft is very important and first time flyers are advised to go for a robust, stable model of any type, which performs well at modest speeds.
Most gliders /electric gliders do tend to have good slow flying properties, are generally forgiving and are less likely to stress out newcomers. For many, the simplest introduction is to acquire an ARTF job, such as the Flyzone Calypso EP glider or the Thunder Tiger E Hawk 2000 EP glider ..... both require minimum building skills and come with all the electronics installed, apart from a receiver and battery pack. You're looking at a £170 price tag for the likes of these. However, if you fancy a "build", and sourcing all the electronics yourself, a decent glider kit can be bought for as little as £60!
Moving on to pure electric powered models, a high wing sport aircraft such as the Chris Foss Wot 4 is a pretty good first trainer, but is capable of flying basic aerobatics as the pilot builds in confidence. The Wot 4 is available as an all foam ARTF model, with the motor & electronics pre-installed and requiring minimal assembly, for the princely sum of £130. This particular design can also be purchased as a conventional balsa / ply kit if you fancy getting into the building side too. None of the above is a specific recommendation as there is a plethora of similar types of aircraft by other manufacturers to choose from, but stick with the trainer types to ensure the best chance of success. Also they`re generally easier to repair!
Costs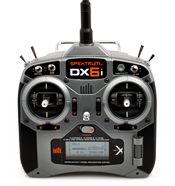 It goes without saying that trawling the internet may result in finding some "real" bargains, so the information below should be considered as a "ball park" figure only!
2.4Ghz radio equipment (the UK / World standard for model aircraft) can be purchased from many on-line outlets for as little as £60 ....... this will comprise of a basic 4 - 6 channel transmitter and matching receiver. Unlike the previous generation of radio equipment, these are powered by disposable "pen" cell type batteries.
However this type of gear only covers the very of basic functions, so if you move on to that "Spitfire" with the addition of flaps and a retractable undercarriage, or an 8 servo glider with sophisticated wing mixing programmes, you will require an upgrade to a 7 or 8 channel outfit. Costs for this range from £140 to ..... well, a lot more than my pocket money! Without going OTT, it might be worth considering this before making the initial purchase!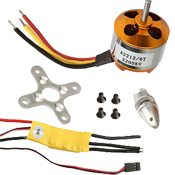 For a traditional "built up" aircraft you will need to source a suitable sized brushless electric motor with an accompanying ESC (electronic speed controller) ......... a motor / ESC combo for an average sized 30"- 40" span model is obtainable for around £30 with prices increasing dramatically for larger aircraft.
In order to get your project into the air, further purchases of Lipoly battery packs (a 2200mah 3s Lipoly used in the above example sells for £12) and a dedicated "balance" charger is a must. Once again, it is worth paying the extra to get an "intelligent" charger than can handle a variety of battery pack configurations and capacities rather than go for a bargain basement unit. But the choice is yours!
This may all sound terribly expensive, but once purchased these items will last for many years and can be transferred between aircraft if necessary.
Finally
This is just a very brief guide to getting started. The best thing to do is to attend one of our flying sessions, whether it be at a flat field location or a slope soaring site, see the range of aircraft in use and chat to the pilots. Help and advice is always willingly given.